How to Get an Insurance Broker License in California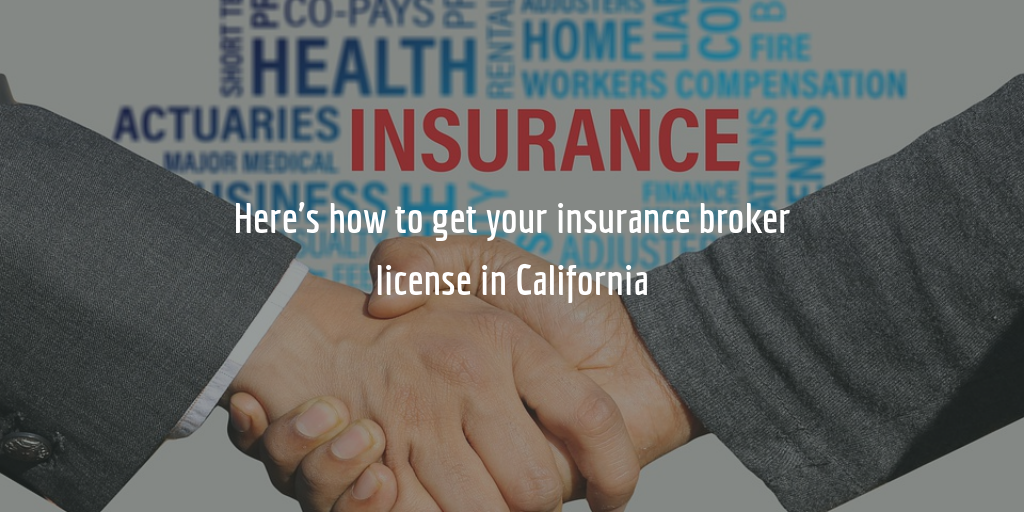 To become an insurance broker in California, you will need to apply for a license at the state Department of Insurance. Applying for a license will take your through several steps, including passing an education course, an examination, and applying for an insurance broker bond.
You can find out exactly what your California Insurance Broker Bond will cost today by filling out the application form below!
Making sense of the process and requirements through the department's website can be somewhat confusing. Here's a simple guide to navigating the application and licensing process for insurance brokers in California.
Insurance Broker License Types
There are three general broker license types in California you can pick from when applying. These are:
Individual Resident License

Individual Non-Resident License

Business Entity License (which is also divided into resident and non-resident types)
On top of these general license types, there are specific insurance license classes that you can pick from. These include:
Accident and health

Automobile

Casualty

Life

Personal lines

Property
Pre-licensing Requirements
Before you can submit your license application, you need to complete several requirements. Licensing requirements will vary slightly between individual and entity license applications, as well as between the different classes of license specialties. Generally, they include the following:
Getting your fingerprints taken

Submitting a

written consent form

, if applicable

Completing obligatory education courses and passing an exam
More specifically, you can get your fingerprints taken at any time before the examination or latest before submitting your license application. To avoid any delays in your license being issued it is best to submit your fingerprints as early as possible.
The written consent form is necessary if you have been convicted of felony crimes of dishonesty or breach of trust anywhere in the U.S. or if you have violated Title 18 § 1033 of the U.S. Code. In this case, you must have the written consent of the Insurance Commissioner before you can become an insurance broker in California.
You must also complete two types of education courses. All applicants must complete 12 hours of Ethics and California Insurance Code prelicensing education. On top of that, all license applicants must also complete 20 hours of education related to their particular field of license classification. Applicants who wish to obtain two licenses (such as Life, Accident and Health Agents) must complete 40 hours of relevant education, on top of the ethics education. You will need to pay a $75 fee for a provider certification, and a $75 fee per course approval application when completing this stage of the process.
Before you can proceed with applying for your license, you must pass exams on the relevant subjects, with a passing score of at least 60%. An examination fee of $50 will also be due when you apply for your exam.
Licensing Requirements
Once you have completed your education, provided your fingerprints, and passed your exam(s) you can proceed with posting your license application, paying fees and submitting your insurance broker bond.
Submitting a license application happens through the FLASH Service of the Department of Insurance. The application process will require you to provide basic information about yourself and to respond to a number of questions regarding your application for this license.
When posting your license application, you will also need to provide a surety bond. Insurance brokers in California need to post and maintain a $10,000 insurance broker bond. This bond is required of Property broker and/or Casualty broker or Personal Lines broker license holders. Along with your application and bond, you will also need to pay a filing fee of $170 for a two-year term.
When you have completed all of these requirements, you will need to wait for your application to be processed, reviewed and approved by the Department.
Surety Bond Requirement and Cost
The requirement for applicants for insurance broker licenses to become bonded is put in place to guarantee their compliance with the chapters of the California Insurance Code that apply to their particular license. The bond protects brokers' customers and the state and guarantees compensation in cases in which the bond agreement has been violated.
The cost of getting bonded is equal to a fraction of the full bond amount. The exact rate at which you can obtain this bond depends on your personal credit score, along with a number of other factors. Typically, the higher your credit score - the lower your bond rate.
Want to know how much your bond will cost? Complete our bond application form to get a free and exact quote on your bond!
Ready to get your FREE surety bond quote? Apply with Lance Surety Bonds and get bonded in minutes.
Fast and Secure Application
Get a FREE Surety Bond Quote in Minutes
Fast and Secure Application
Lance Surety Bond Associates, Inc. is a surety bond agency based out of southeastern Pennsylvania that is able to write all surety bond types in all 50 states. We are dedicated to servicing all of our customers' surety bonding needs throughout the country and guarantee competitive rates, timely responses, and unparalleled customer service.
---