Surety Bond Application Center
Not sure what application
you should complete?
VIDEO: "How to get a License Bond"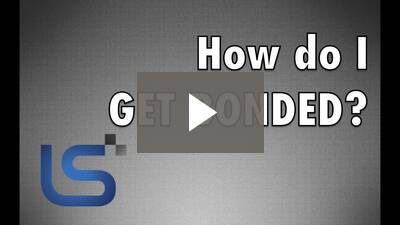 Frequently Asked Questions
What are surety bonds?
While there are many varieties, a surety bond is essentially an agreement between three parties–a principal, an obligee and a surety–assuring them all that something will happen. In general, surety bonds protect consumers and hiring parties, also known as the obligees, from fraud, abuse and penalties.
In business and contract work, surety bonds guarantee that the principal, or the contractor hired to do a job, will perform the task as outlined in the official contract. If the principal does not, then the surety, or the person who financially guarantees the bond, pays the obligee money to get the job done and to cover any damages, penalties or other costs incurred. The principal then repays the obligee for this claim.
For example, if the city hires a contractor to restore an old building and the contractor cannot finish the job, the government would then have a claim on the surety bond. The surety would pay the government whatever money was needed to finish the restoration with another contractor. The original contractor would have to pay this claim and any associated legal fees.
How do I get a bond?
First apply for one. After the application is approved, your agent will let you know how much your bond premium costs and give you a contract with a bonding company. Once you pay your premium and sign the contract, you will receive your bond.
How does a surety bond work?
The principal buys a surety bond from the surety and pays a premium, or a percentage of the bond sum. In return, the surety extends the principal surety credit, essentially telling the obligee that this project is guaranteed to work out, whether done with this particular contractor or not, at no extra cost. The principal then follows the terms of the bond to finish the project; if no claims arise the principal pays nothing but the bond premium.
How much do surety bonds cost?
Rates depend on multiple factors, including obligees' risk preferences, applicants' credit ratings and the type of bond required, but usually fall between 1% and 3% of the bond total. Applicants with higher personal risk or applying in higher-risk markets may pay up to 20 percent.